By Cycling Dad
This afternoon I went on a low intensity 35k loop through the Vienna Woods with 265m altitude gain.
While the figures may not be very impressive, the ride was noteworthy for two reasons: For one, check out the snapshots I took along the way. The colors of the woods were simply amazing. I have never been to New England during the famous Indian Summer, but this is how I imagine it to be. This is cycling at its best. Imagine fresh (very fresh), crisp air, colors exploding all around you and pristine tarmac under your wheels…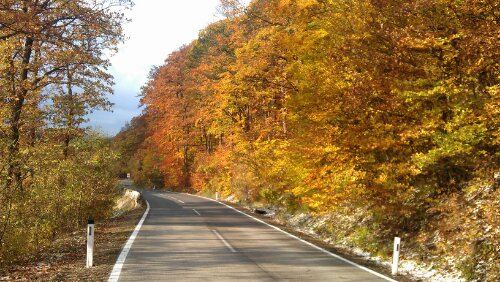 Secondly, and more importantly… did you notice the white powdery substance in the picture above? This is snow (for our friends in Hong Kong). It will be a common phase condition for water in the wild this winter and usually coincides with low temperatures. Sometimes even extremely cold temperatures. I thought quite a bit about this during the ride and worked through a mental shopping list of essential equipment, needed if I am serious about cycling outside and surviving winter. At the moment, temperature are still around zero degrees celsius, but last winter they stayed around minus ten for weeks. I am having mixed feelings about my current gear and am planning to write about it in one of the upcoming posts. I also have mixed feelings about road conditions during this time of the year as there is quite a bit of foliage on the road. It may be a good idea to monitor speed on descends.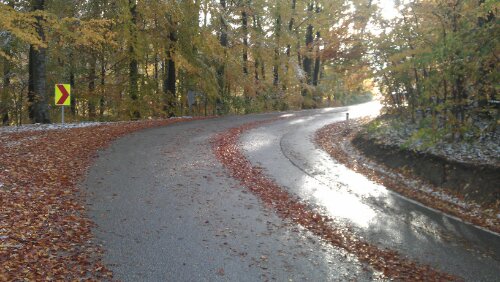 Back home my body shifted immediately into fat bunkering mode (or rather shifted one gear further up). I reckon this is the logical consequence to parts of my clothing giving up on the cold weather conditions. The tuna pizza was excellent, as usually is the case after taking the bike for a ride. There still may be some work to be done on the nutrition side of the master plan. And on the training plan. Any suggestions
?